900KG, 1Ton Box Magnets For Precast Tilting Table Mould Fixing
Short Description:
900KG Magnetic Shuttering Box is a popular sized magnetic system for precast panel wall production, both of wooden and steel side mould, composed with carbon box shell and a set of neodymium magnetic system.
Item No.: SM-900 Shuttering Magnet
Material: Carbon Steel Housing, Sintered Neodymium Magnets
Dimension: L280x60x40mm, with 2 x M12 thread
Adhesive Force: 900KG Shuttering Magnets
Max. Working Temp.: 80℃
Product Detail
Product Tags
900KG Box Magnet is a regular magnetic box size for precast form-work construction, both of wooden and steel side mold, composed with carbon box shell and a set of rare earth neodymium magnetic system.
It can be activated by simply pressing down the button by the hand or foot. To deactivate them, the magnets are easily released by steel lever (to pull the button on). In the inactive position, the shuttering magnets can be easily removed from the table form. The precast concrete magnets could be used alone or connected with adapter to fix the former. Normally 900Kg vertical force box magnet is perfectly suitable for 60-90mm thickness wall panel production.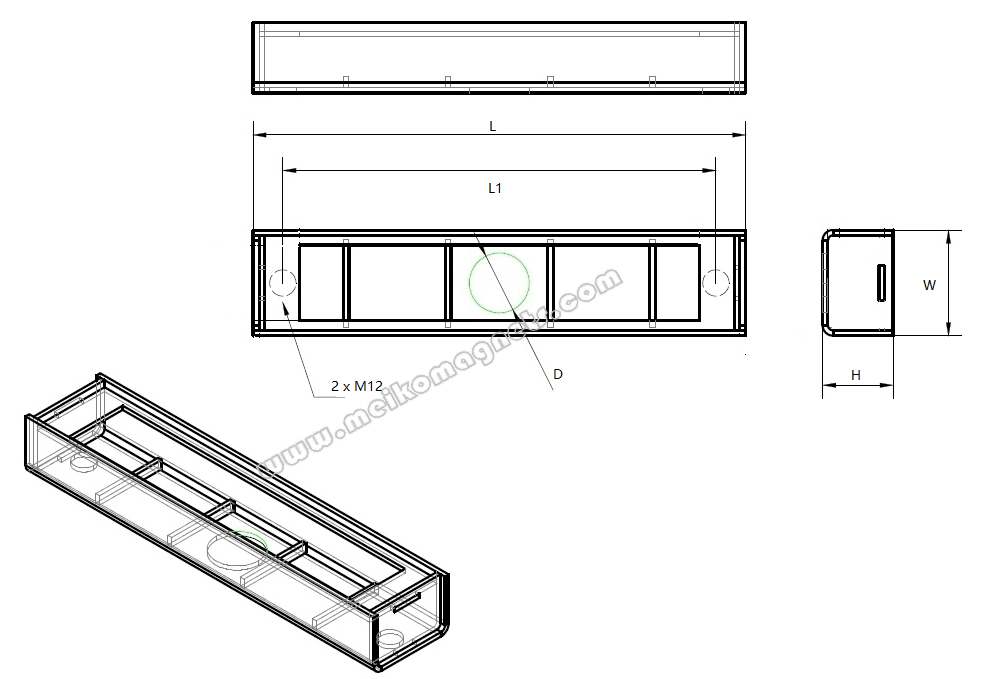 Standard Specifications
ITEM NO.
L
W
h
L1
M
Adhesive Force
Net Weight
mm
mm
mm
mm
kg
kg
SM-450
170
60
40
136
M12
450
1.8
SM-600
170
60
40
136
M12
600
2.0
SM-900
280
60
40
246
M12
900
3.0
SM-1350
320
90
60
268
M16
1350
6.5
SM-1500
320
90
60
268
M16
1500
6.8
SM-1800
320
120
60
270
M16
1800
7.5
SM-2100
320
120
60
270
M16
2100
7.8
SM-2500
320
120
60
270
M20
2500
8.2
KEY BENEFITS OF Precast Shuttering Magnet:
1. Reducing the complexity and time of the installation of form-work (up to 70%).
2. Universal use for mass production of concrete products, and piece products of all forms on the same steel table.
3. Eliminates the need for welding, shuttering magnets does not damage the steel table.
4. Makes it possible to produce radial products. Form-work Shuttering Magnet for Precast Plant
5. A small cost of a set of magnets. The average payback of about 3 months.
6. The main advantage of the shuttering magnets is that you do not need to have a lot of different forms for different products, you need to have a set of magnets, adapters for different height boards and steel table. Precast Concrete Shuttering Magnet Box 900kg
We, Meiko Magnetics, are professional in all kinds of magnetic solutions for precast concrete industry. You can find all your standard requirements or customized magnetic system here for precast.
---
Previous:
450KG Box Magnets with Push-pull Button
---