Rectangular Rubber Coated Magnets for Wind Turbine Application
Short Description:
This kind of Rubber Coated Magnet, composed of powerful neodymium magnets, steel parts as well as rubber cover, is an essential part in the wind turbine application. It features more reliable use, easier installation and less further maintenance without welding.
Material: Rubber, NdFeb Magnet, Steel Parts
Dimension: L85 x W50 x H35mm, with M10x30 threaded
Traction Force: 350KG vertically or customized
Working Temperature: Normal under 80℃
Product Detail
Product Tags
As the fossil fuel-based resources restriction and environment protection, wind turbine is playing an important role,on the fastest growing way, in the field of generating a clean and renewable fuel source for electric power.  In order to allow workers to operate, normally it requires ladders, lighting, cables and even elevator inside and outside of wind wall. The traditional way is to drill or weld the steel brackets for those equipment on the tower wall. But both of these two methods are extremely cumbersome and very out-dated. To drill or weld, the operators need to carry around lots of tools in very slow productivity. Also it requires very skilled workers, as it's under high risks.
Rubber Coated Magnets are the useful tool to solve this problem with fast, reliable and easy installing and uninstalling. With significant benefits of inside super power neodymium magnets, it can hold the brackets on the tower wall firmly without any sliding and falling. The mounting rubber even not scratch the surface of tower wall. Also the customized threaded stud is fitted with any bracket. The magnets will be packed individually for easy transportation and protection, with conspicuous strong magnet alert.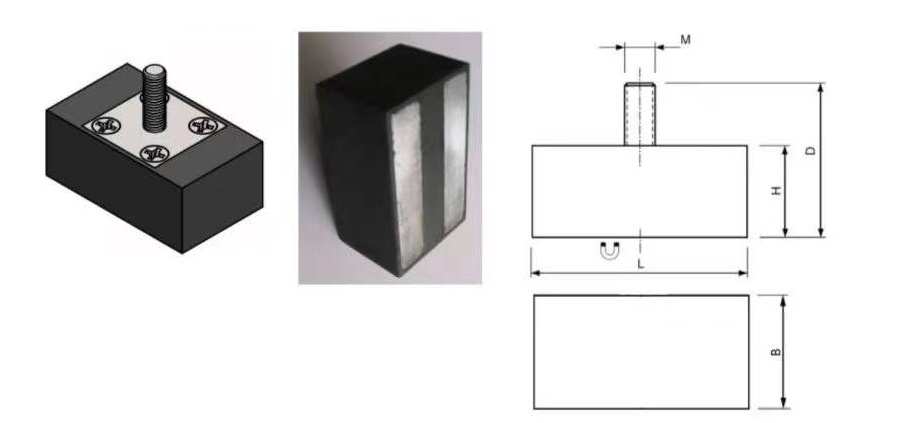 Item No

L
B
H
D
M
Traction Force
Color
N.W.
Max.Temp.
(mm)
(mm)
(mm)
(mm)
kg
gr.
(℃)
MK-RCMW120
85
50
35
65
M10x30
120
Black
950
80
MK-RCMW350
85
50
35
65
M10x30
350
Black
950
80
As a specialist on magnetic assemblies production, we, Chuzhou Meiko Magnetics Co.,Ltd., are capable of helping our wind turbine manufacturer to design and produce all sized & holding forces magnetic mounting system according to requirements.  We are filled with Male/Female threaded, flat screw in variety of round, rectangle rubber coated magnets in different applications.
---
---