Shuttering Magnets, Precast Concrete Magnets, Magnetic Formwork System
Short Description:
Shuttering Magnets, also named Precast Concrete Magnets, Magnetic Form-work System, is typically designed and manufactured for positioning and fixing form-work side rail profile in processing of precast elements. The integrated neodymium magnetic block could hold the steel casting bed tightly.
Item No.: SM-450, SM-900, SM-1350, SM-1800, SM-2100, SM-2500 Shuttering Magnet
Material: Steel Housing, Button, Powerful Neodymium Magnets
Treatment: Black Oxidation or Galvanized Precast Shuttering Magnet
Adhesive Force: Ranging from 450KG-3000KG Shuttering Magnet
Max. Working Temp.: 80℃ or customized
Product Detail
Product Tags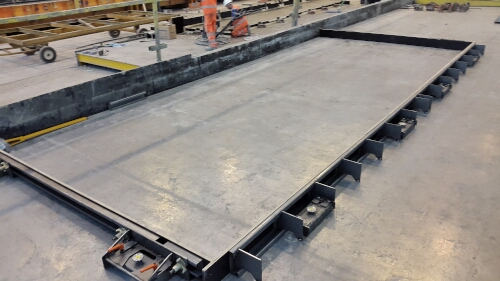 The On/Off Switchable Precast Box Magnet is a typical shuttering magnet type of precast magnetic solutions, applied for positioning and fixing shuttering side mold on the steel casting bed in the field of precast element productions, such as precast concrete interior/exterior wall panel, stairs, balconies for the most molds, as steel mold, aluminum molds, wooden & plywood molds. It plays a new critical role for featuring higher productivity, easier operating method of precast production, compared to traditional bolting or welding on the steel tables, especially for the tilt-up table.
As long as the framework settled down, the shuttering magnets could freely move into the right position. It's essential to check the surface of magnet and bed on this step, cleaning up the adsorbed ferrous stuffs on the outward magnet as well as remaining concrete on the platform, to make sure the magnets tightly hold the table, without any gap.
Subsequently, the unique designed button can be pushed to make magnets attracted on the steel plate firmly, which will generate extremely multi magnetic circles between emerged magnetic block and steel table, through the outputting magnetic flux. The integrated super powerful permanent sintered neodymium magnets (NdFeB) are being constantly and strongly supportive to fix the side rail profile against removing and sliding, under the processing of concrete pouring and vibrating inside of frame mold.
Once prefabricated components accomplished and side mold de-attached, an extra professional steel lever could be used for pulling up the button to release the magnet by manual operation. After magnet works done, it should be taken away and stored regularly for further maintenance, like cleaning up, anti-rusty lubricating to keep a durable performance in the next round of use.
Standard Dimensions
ITEM NO.
L
W
h
L1
M
Adhesive Force
Net Weight
mm
mm
mm
mm
kg
kg
SM-450
170
60
40
136
M12
450
1.8
SM-600
170
60
40
136
M12
600
2.0
SM-900
280
60
40
246
M12
900
3.0
SM-1350
320
90
60
268
M16
1350
6.5
SM-1500
320
90
60
268
M16
1500
6.8
SM-1800
320
120
60
270
M16
1800
7.5
SM-2100
320
120
60
270
M16
2100
7.8
SM-2500
320
120
60
270
M20
2500
8.2
Advantages
-High Forces from 450KG to 2500KG in small body, save the space of your mold extremely
-Integrated automatic mechanism with steel springs for easier operation
-Welded threads M12/M16/M20 to adapt required form-work fixture
-Multi-functions magnets for different purpose
-Various type of adapters are equipped to match your side rail profile, no matter wooden, plywood, steel, aluminum mold.
---
---